2020 Retrospective: Baidu's AI Innovations
In 2020, the world was hit by the unprecedented challenges of COVID-19. The pandemic brought forth the greatest health, social and economic challenges in decades. Despite it all, Baidu's innovations and technologies continued to drive growth with an AI transformation, including AI tools to combat the pandemic and research for next-generation machine intelligence. In 2021, we are full steam ahead towards fulfilling our ultimate mission of "making the complicated world simpler through technology."
Before we start our 2021 journey, we want to take a quick look at the AI innovations we achieved in 2020, including technology breakthroughs, applications and deployment, and AI for social good.
Technology breakthroughs
Over the past year, we tackled longstanding research challenges and pushed the envelope in AI. As of October 2020, we have 2,682 AI-related patents and filed a total of 9,364 AI-related patent applications, ranking first in applications, three years running. Additionally, Baidu researchers presented over 260 papers in top-tier academic conferences including CVPR, ACL, ECCV, NeurIPS, and INTERSPEECH and topped over 30 competitions.
Research: Baidu Brain is our core AI technology engine and open AI platform that backs all Baidu businesses while opening up to third-party developers who are helping accelerate AI implementation. In 2020, Baidu Brain was upgraded to version 6.0 featuring "knowledge-enhanced multimodal deep semantic understanding." The upgrade enabled multimodal signal fusion processing to improve cognitive understanding. In other words, we began building a long-range contemporary AI that can consistently learn new skills by integrating all different aspects of human inputs and knowledge.
For example, we proposed ERNIE-ViL last year, which can easily extrapolate the context from a picture. Essentially the model is a knowledge-enhanced Transformer capable of learning joint representations of vision and language. The experiment showed promising results as the model ranked first on the VCR leaderboard and achieved state-of-the-art performance on five downstream tasks.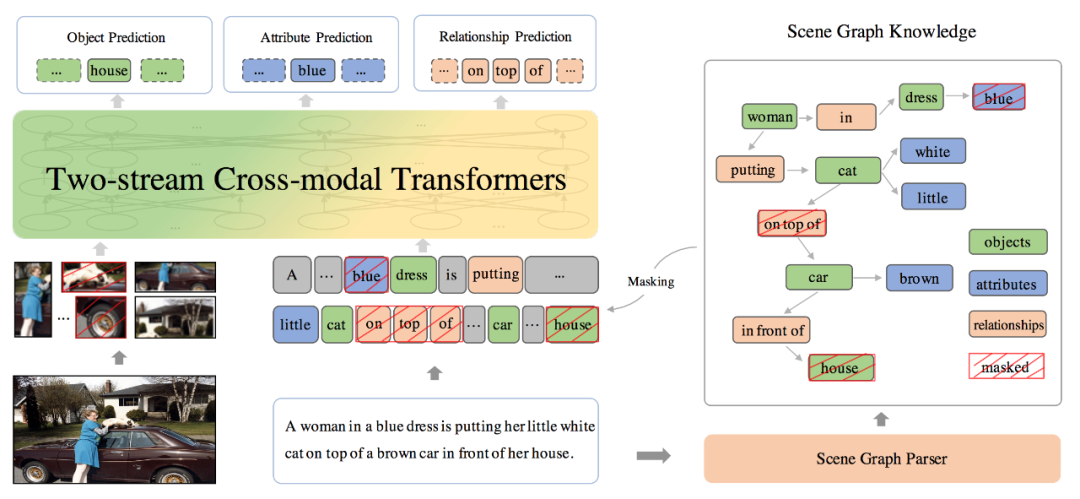 Other research breakthroughs made in 2020 include PLATO-2, an open-domain chatbot model able to engage in deep conversations with humans using both Chinese and English languages, RocketQA, a novel approach to dense passage retrieval for open-domain question-answering, and ERNIE-GEN, an NLP model that achieves state-of-the-art results on a range of language generation tasks.
Deep learning platform: We built and open-sourced our homegrown deep learning platform PaddlePaddle in 2016, to make it easier for developers to ride the AI wave. It's now seeing a strong adoption of over 2.65 million developers. Additionally, 100,000 enterprises have used PaddlePaddle to create more than 340,000 models.
PaddlePaddle's latest version, 2.0RC, now supports 29 types of processors from 20 semiconductor manufacturers, including Intel, NVIDIA, and MediaTek. It also unifies the dynamic graph and static graph to strike a balance between flexibility and efficiency. The platform improves the API system and provides better high-level API functions that simplify common operations such as training, evaluation, and inference.
Biocomputing: The AI approach is unlocking more biology research studies with publications involving AI methods in biology growing over 50% year-on-year since 2017, according to stateof.ai. In late December, we announced PaddleHelix, a machine learning-based bio-computing framework aiming to facilitate the development of vaccine design, drug discovery, and precision medicine. The platform now provides open-source AI tools for prediction of drug-target interaction, representation learning of compounds and proteins, and prediction of RNA secondary structure.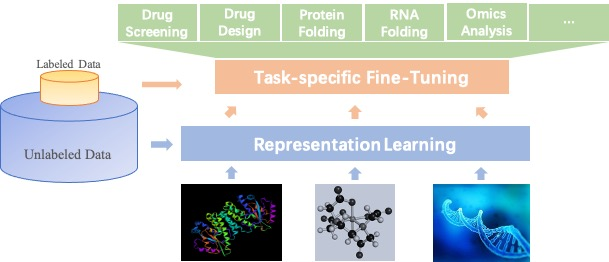 Self-supervised learning for molecule representations
AI chip: We pushed the envelope and introduced Baidu Kunlun 2, the next-generation AI processor. Originally, Baidu Kunlun was built to accommodate high performance requirements for a wide variety of AI scenarios and made headlines as China's first cloud-to-edge AI chip in 2018. Nearly 20,000 Kunlun chips have been produced and deployed to power Baidu's applications.
Baidu Kunlun 2's top computational capability for its new 7-nm chip is over three times that of the previous generation. Plans for the mass production of the chip are expected to begin in early 2021.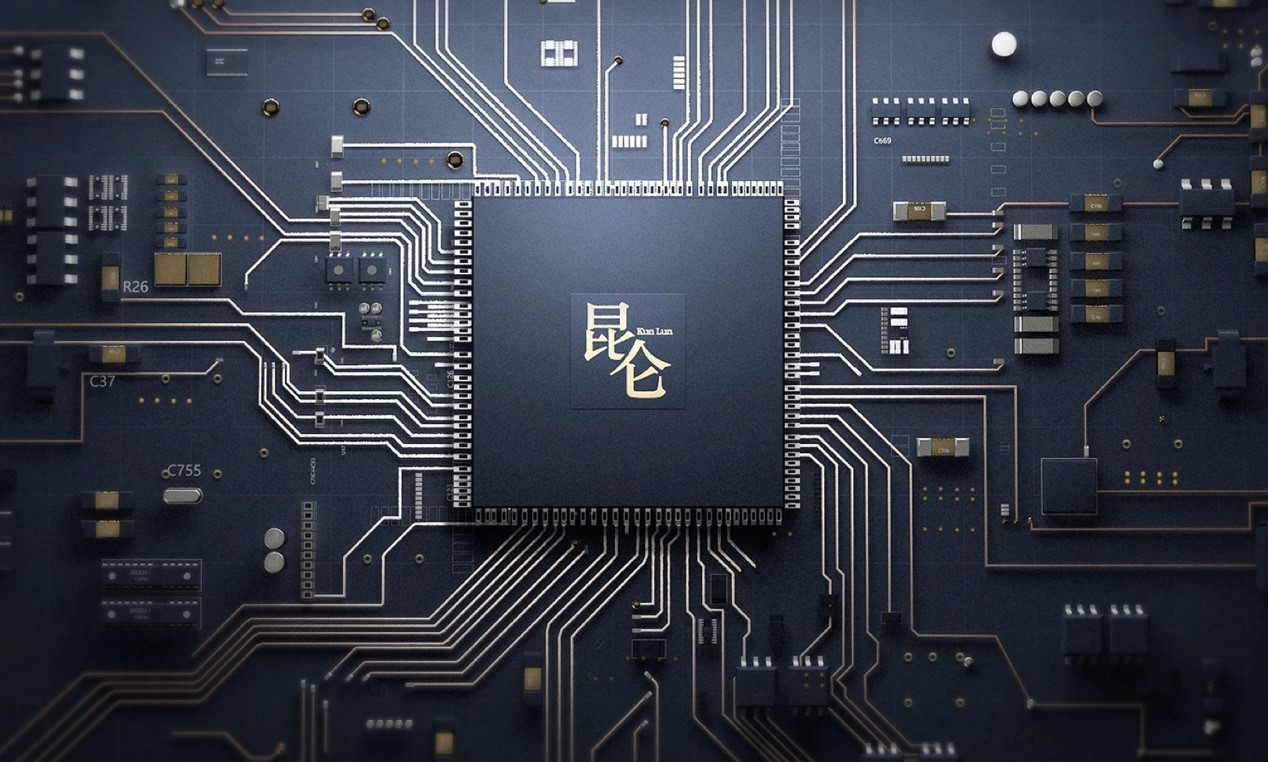 Baidu Kunlun
Quantum and blockchain: We started to see our years of research and dedication to quantum computing and blockchain starting to pay off. Last year, Baidu Quantum Computing Institute announced the quantum machine learning development toolkit Paddle Quantum and new cloud-native quantum computing platform named Quantum Leaf. We also made moves in blockchain with the launch of the public beta for its "Xuperchain" open distributed ledger blockchain project, which boasts 85,000 transactions per second on a single chain.
Applications and deployment
We are entering the stage of intelligent transformation of the economy where the application and commercialization of AI is expanding in more sectors, like search, newsfeed recommendation, autonomous driving, and healthcare, according to Baidu CEO and Co-Founder Robin Li.
Here is a quick review of Baidu's AI applications in real-world scenarios.
Search: AI capabilities like NLP, knowledge graph, and multi-modal deep learning are powering up search engines to help users acquire information more efficiently and accurately. At Baidu World 2020, we launched the Duxiaoxiao virtual assistant app, an innovative search product capable of direct communication with users to solve everyday life questions.
Maps: Baidu Maps is one of the world's largest mapping applications that leverages AI algorithms to automate 90 percent of its data collection pipelines. Over the past year, its built-in voice interaction grew to a user base of 400 million. Together with the Baidu Apollo autonomous driving platform, Baidu Maps also added a new robotaxi feature allowing users to hail a self-driving car in multiple Chinese cities.
In addition to its outdoor maps, Baidu Map recently rolled out an indoor map function that helps users find locations anywhere in a mall through an AR route from their destination onto the real-world scenes.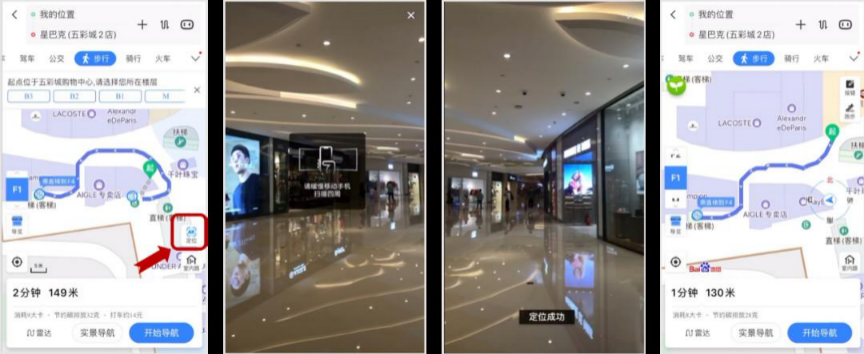 Baidu Maps' AR indoor map function
Keyboard: Since the beginning of 2020 Baidu keyboard became the industry's first keyboard product with one billion daily voice requests. The keyboard has 98.6% accuracy in voice recognition and enables offline voice recognitions of mixed speeches in Chinese-English as well as dialects.
Voice assistant: Our conversational AI platform DuerOS brought smart living to a larger audience with a wider range of scenarios. In 2020, its monthly voice queries on Xiaodu devices reached 3.3 billion and the total monthly voice queries reached 6.5 billion. DuerOS now offers 4,300 skills and a developer community of 45,000.
Xiaodu Smart Display was the leader in smart display shipments globally, while Xiaodu smart speakers ranked first in smart speaker shipments in China for the second quarter of 2020, according to market research firms IDC, Strategy Analytics and Canalys.
We also expanded our product line by launching XiaoduPods, true wireless portable smart earbuds with built-in translation, voice search and more.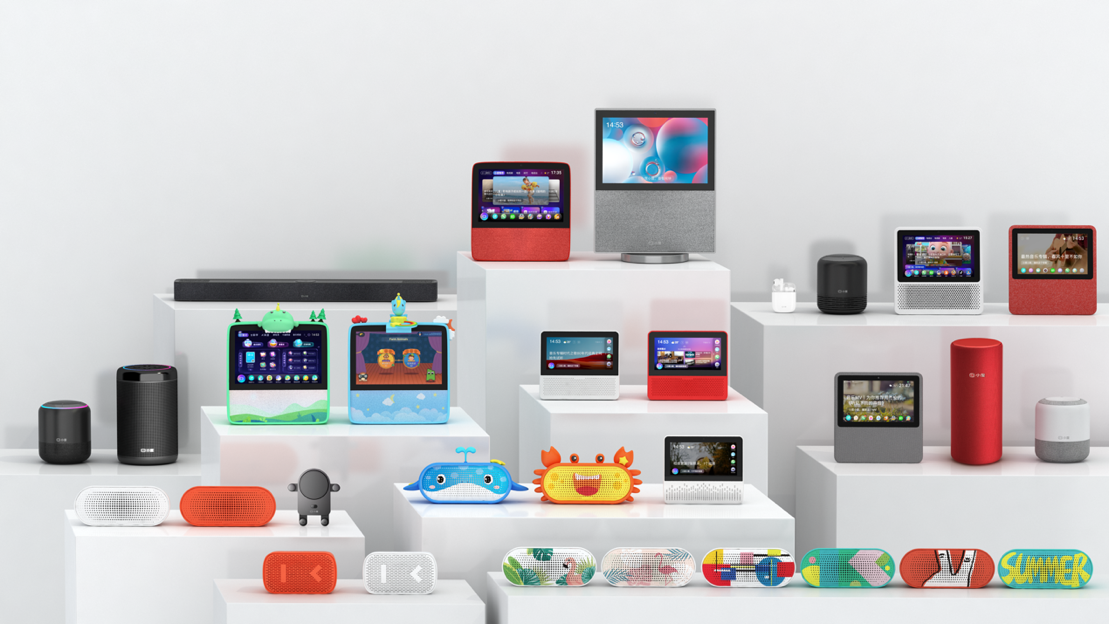 Xiaodu product line
Autonomous driving: Baidu Apollo built a fleet of more than 500 test vehicles across 27 cities worldwide. We surpassed seven million kilometers in urban road testing and secured 170 licenses issued for self-driving tests. Apollo Go robotaxi service is now operational in Beijing, Changsha, and Cangzhou and has carried over 210,000 passengers. It plans to expand to roughly 30 cities over the next three years.
We received permits to test fully driverless vehicles in Changsha and Beijing, marking a significant step towards commercialization resulting from Baidu's continuous technological innovation. Apollo's approach to enable fully automated driving is comprised of mass-produced vehicles, the 'experienced AI driver' and the 5G Remote Driving Service.
As autonomous vehicles continue operating with AI, we believe roads should operate with AI as well. To further those efforts, we released the ACE Transportation Engine (A-autonomous driving, C-connected road, E-efficient mobility), a full-stack solution aiming to help cities in China build intelligent transportation systems. We expect smart transportation infrastructure based on V2X technologies promises to improve traffic efficiency by 15% to 30% and boost the contribution to GDP by 2.4% to 4.8% in absolute value.
Baidu Apollo fleet
Baidu Cloud: The Covid-19 pandemic accelerated a shift toward a cloud-centric infrastructure. Over the past year, we held the highest market share and highest number of invocations in China's fast-growing AI public cloud services market, according to a report from International Data Corporation (IDC). Service areas include smart city, digital persons, healthcare, industrial internet, energy management, work communications platform, and more.
Baidu Cloud has partnered with over 10 Chinese provinces and cities including Beijing Haidian, Chongqing, and Chengdu to help accelerate the shift toward smart city solutions includes. We now have nearly 200 financial clients and over 30 partners using our smart finance services. Our smart healthcare service now has been deployed in over 300 hospitals and 1500 primary care facilities. Intelligent manufacturing services encompass 14 major industries such as automotive, steel, and energy. It currently serves over 100 companies and more than 30 partners. We also partnered with the State Grid and China Southern Power Grid to upgrade their energy management. Last year, we launched Baidu Infoflow, an AI-powered comprehensive online office platform.
Baidu Cloud Computing (Yangquan) Center
AI for social good
Our commitment in AI development is not only to deliver value for business but to positively impact the world. The algorithms and models we have created are helping people with disabilities live more independently and are solving some long-standing challenges that could threaten our civilization.
Fighting COVID-19: When the COVID-19 pandemic spread across China, we reacted quickly and tapped AI in a variety of settings to reduce exposure and fast-track the virus's containment. We opened up LinearFold and LinearDesign algorithms to support anti-pandemic efforts and long-term public health by facilitating whole-genome sequencing analysis of the COVID-19 virus. Our self-developed AI-powered, non-contact infrared sensor system enables fast multi-person temperature monitoring that can quickly detect a person if they are suspected of having a fever, which was one of the common symptoms for COVID-19.
Using Baidu Maps' "Migration Big Data Platform," we identified the flow of travel across high-risk areas and helped epidemiologists build an approximate picture of people's migration with those carrying the coronavirus. Our intelligent robocall platform has made over 5 million automated phone calls requesting people voluntarily provide their recent travel history. Our intelligent health care unit released an AI-powered medical consultation assistant to help doctors deal with the growing number of online requests related to COVID-19 and provided general information to the public about the pandemic.
AI-powered, non-contact infrared sensor system
Protecting endangered species: We launched the "AI Guardian of Endangered Species," an AI-powered tool that identifies online images of products related to endangered wildlife in 2020. This tool aims to support organizations in their efforts to monitor and crack down on illegal wildlife trade. Jointly developed by Baidu's open source deep learning platform PaddlePaddle and IFAW, the tool has a 75% accuracy rate at recognizing images of products made from elephant ivory, pangolin scales and claws, and tiger teeth, skin, and claws.
Overall, 2020 was a very successful and exciting year for AI research and its implementation at Baidu. As we move forward in 2021, we will continue to explore and break through new technologies, open up our resources to support intelligent transformation, and assume our social responsibilities.