Baidu Research Bolsters Capabilities with New Labs and World-renowned Appointment to Advisory Board
Baidu Research held its 2019 Advisory Board meeting at which it announced that it had upgraded its lab ecosystem to include seven research labs to cover a broader range of frontier technology areas. At the meeting, Baidu Research also welcomed Artur Konrad Ekert, renowned quantum physicist and one of the inventors of quantum cryptography, to its Advisory Board.
Ekert, a Professor of Quantum Physics at the Mathematical Institute, University of Oxford and Director of the Centre for Quantum Technologies at the National University of Singapore, joins a team of acclaimed scientists and academics at Baidu Research to drive frontier research that is foundational to Baidu's vision for AI and related fields.
At the meeting, Dr. Haifeng Wang, Baidu Chief Technology Officer and Head of Baidu Research, reiterated the values, mission and vision of Baidu Research. "We are committed to developing Baidu Research into a leading global research institution with a mission to lead in the development of cutting-edge technologies and promote breakthroughs in AI and other frontier fields," Wang said.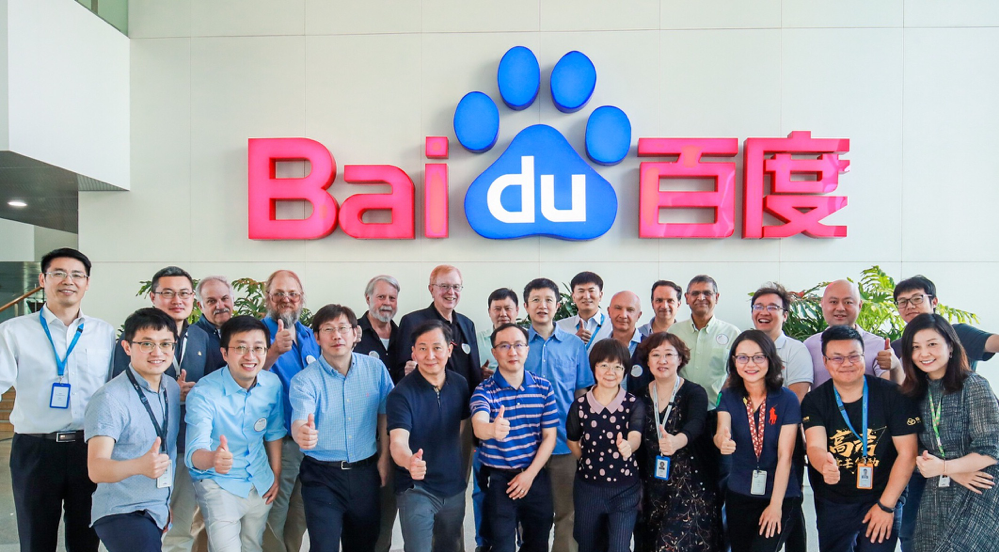 As Baidu deepens its leadership in AI, Baidu Research focuses on future-looking fundamental research in AI, serving as the frontier of the company's technological development. The new additions of the Institute of Quantum Computing (IQC) and the Cognitive Computing Lab (CCL) further strengthen the Baidu Research infrastructure, which now counts seven labs, including the Big Data Lab (BDL), Business Intelligence Lab (BIL), Institute of Deep Learning (IDL), Robotics and Autonomous Driving Lab (RAL) and Silicon Valley AI Lab (SVAIL). Research across the labs is driven by top AI experts from around the world, including Kenneth Ward Church, Runyao Duan, Guodong Guo, Jun Huan, Liang Huang, Ping Li, Hui Xiong and Ruigang Yang.
Established in 2018, the Baidu Research Advisory Board brings together the diverse academic voices of top researchers as a think tank to provide technical direction for Baidu's core AI technologies, as well as a vision for future opportunity. Advisory Board members are internationally-renowned scientists, including computational linguistics expert Mark Liberman; Tenured professor of Carnegie Mellon University and an expert in robotics Martial Hebert; former Vice President and Chief Scientist of AT&T Bell Labs, David Belanger; leading computer vision scientist, David Forsyth; and Regents Professor at the University of Minnesota, Vipin Kumar, who has also been honored by the ACM SIGKDD Innovation Award, the highest award for technical excellence in the field of Knowledge Discovery and Data Mining (KDD).

The Advisory Board's work is comprehensive, spanning nearly every area of AI - from foundational to cognitive and perceptual technologies - including information mining, computer vision, natural language and speech, big data mining, business intelligence and quantum computing. The strong expertise of the board continues to lay a solid foundation for Baidu's ongoing technology leadership and drive progress in fundamental AI technologies.
During the Advisory Board meeting, scientists at Baidu Research presented their latest achievements in automated deep learning modeling, intelligent transportation, cognitive computing, computer vision, speech and natural language processing, robotics and autonomous driving, quantum computing and high-performance computing.
Held ahead of this week's Baidu Create 2019, the Advisory Board meeting set the stage for the annual developers conference where Baidu Research's Kenneth Church, Runyao Duan, David Forsyth, Jun Huan, Dinesh Manocha, Yang Yi and other leading scientists will showcase their latest research and offer insights in their respective fields to developers from around the world.