Baidu Exhibits Construction Robotics Technology and Solutions at ConExpo 2023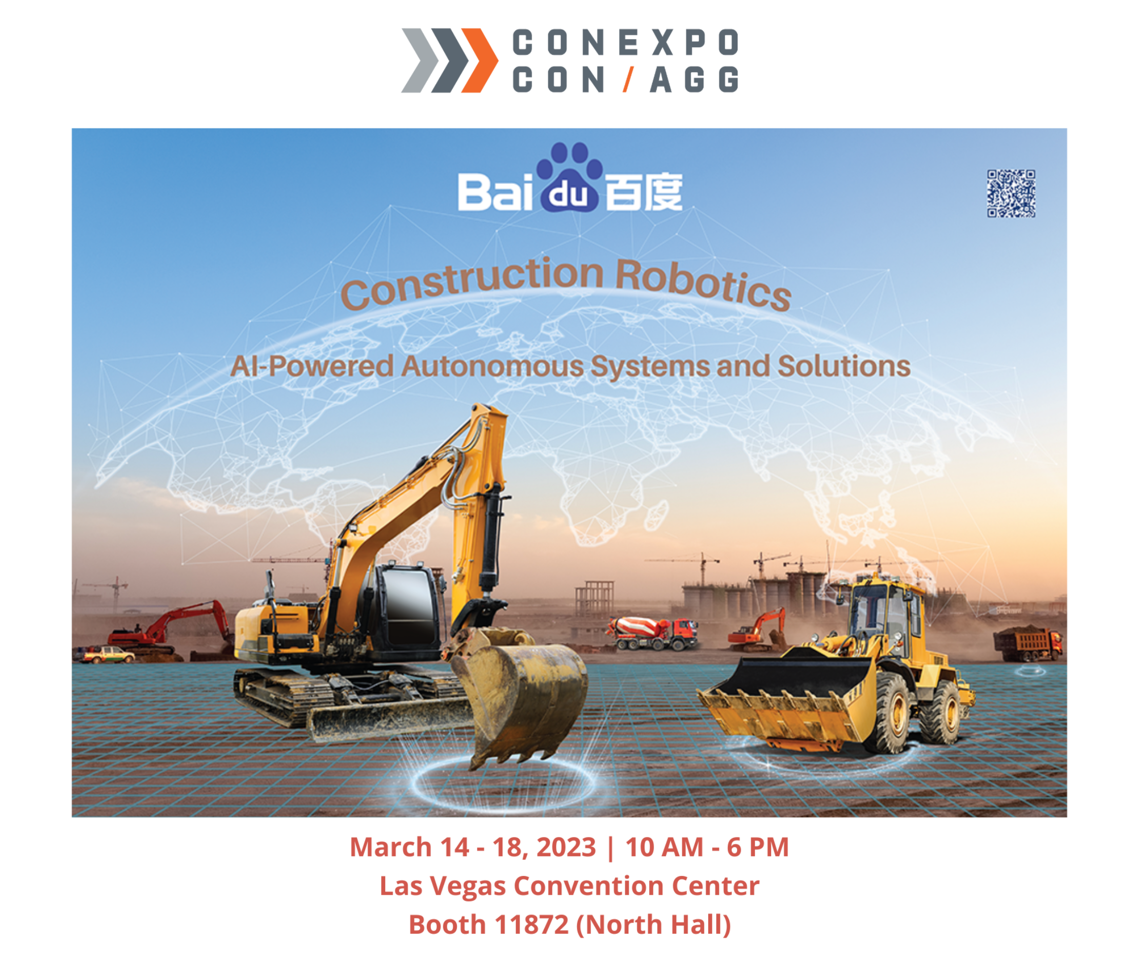 Baidu Robotics and Autonomous Driving Lab (RAL) is exhibiting at CONEXPO-CON/AGG, North America's largest construction trade show, from March 14 to March 18, 2023, at the Las Vegas Convention Center. At the event, Baidu RAL showcases not only Autonomous Excavator System (AES) but also other advanced technologies, such as autonomous wheel loader navigation system and smart crane safety system. These innovations enhance safety, productivity, and efficiency in the construction and mining industries, attracting significant attention at the event.
Autonomous excavator system with real world deployment and new capability
The construction and mining industry, an essential contributor to infrastructure development, is facing a shortage of skilled operators. Adding to this challenge, operators work in dangerous environments that pose significant health and safety risks, making the industry unappealing to young workers. To address this challenge, Baidu RAL develops constructions robots, including autonomous excavator system (AES) that is applicable across different industries, helping to reduce the reliance of skilled operators.
Baidu's AES has a proven track record of success. It has been deployed in real-world scenarios with continuous operations for over 24 hours, accruing a total of 11,000 hours of usage and counting. Its unparalleled features have brought about industry-leading benefits in terms of enhanced safety and productivity, making it an attractive solution for leading construction machinery companies and end-users who have already adopted it.
Wheel loader, terrain crane, more construction machinery and commercialization
Beyond autonomous excavator, the team is extending the technology to support other machineries. Wheel loaders are often used to transport materials on mining and construction site. Presently, wheel loaders are often controlled by trained human operators. Human operators often have to operate the wheel loaders in extreme working conditions, such as heavy dust and extreme temperatures. Not to forget, the frequent acceleration, deceleration, and steering actions of wheel loaders pose considerable challenges to the operators, making it impossible to maintain high working efficiency and quality over long operation periods. These issues stimulate the critical demands of autonomous system equipped on wheel loaders and other articulated vehicles in extreme working conditions.
To tackle these challenges, Baidu RAL presents a systematic approach for high-performance and efficient trajectory tracking control of autonomous wheel loaders. The advanced control and autonomous navigation system is verified using a high-fidelity simulator. The sensors then are installed on the wheel loaders to collect a series of operating data for safety verification before deployment the system for use in the warehouse autonomously.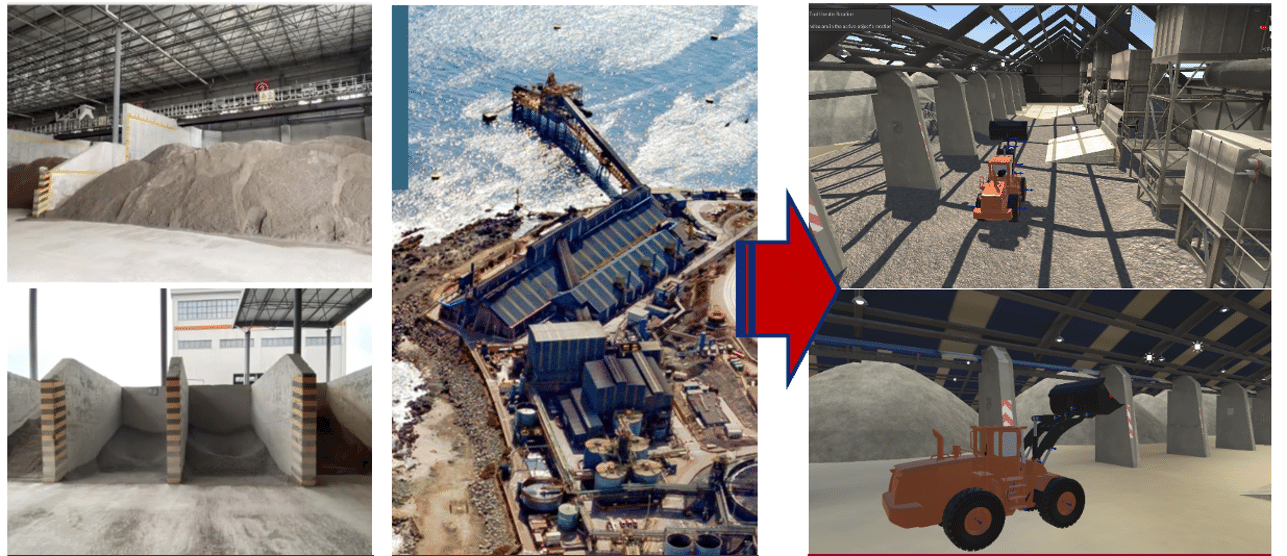 To commercialize the autonomous technology, the team is partnering with a leading mining company for the deployment of safety systems for terrain crane operation. By providing safety monitoring features such as human detection outside the crane and detecting drowsy operators, the system enhances the safety standards for both the operators of heavy terrain crane equipment and surrounding equipment and humans. Currently, the system is undergoing testing at a challenging outdoor desert-like environment with high temperatures and loads of dust.
Perception and environment mapping for complex environment
Safety is of utmost importance, especially as construction machines become increasingly automated. To address this critical need for safety, Baidu RAL develops a cutting-edge Camera-LiDAR fused perception system for sensing and understanding the surrounding environment, identifying obstacles, and detecting potential hazards.
The perception system is capable of detecting humans and a wide range of construction machines in real-time and simultaneously estimate the position and actions of the excavator. This allows to effectively analyze the excavator activity, making it possible to identify and mitigate any potential safety risks, leading to a safer and more productive construction environment.
One of the critical components in the autonomous solutions is the environment mapping and localization module. Due to the limited field of view of the low-cost LiDAR sensor used in the system, rapid machine swing motions can lead to significant changes in the scene between successive LiDAR scans. This can result in the simultaneous localization and mapping (SLAM) process failing and subsequently leading to inaccurate localization. To address this challenge a pre-generated global map method integrating odometry from each LiDAR frame with the inertial measurement unit (IMU) is developed. By doing so, the accuracy and reliability of the mapping and localization processes is improved, enabling the system to operate effectively in real-world deployment scenarios.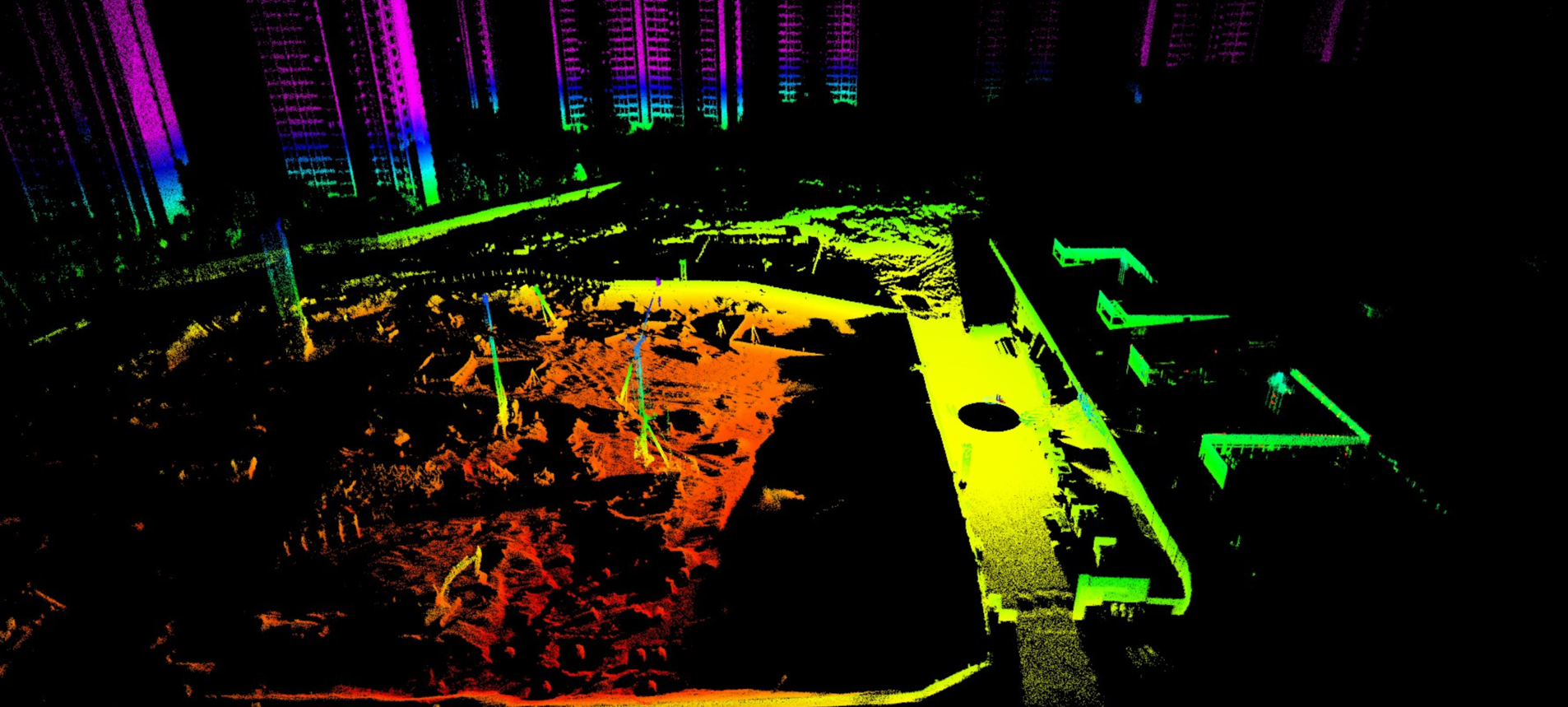 The first excavator that can autonomically dribble a basketball
The autonomous system's capabilities are highlighted in the excavator basketball dribbling demo developed by Baidu RAL. Achieving successful basketball dribbling requires advanced autonomous excavator planning and control, accounting for hydraulic system control delay, real-time dynamic object detection and prediction, and fast and precise excavation control based on real-time visual feedback. To achieve this, the team developed a perception system to detect and predict the ball's trajectory, which was then integrated with the real-time excavator planning and control system, showcasing the impressive capabilities of the autonomous excavator technology.
Future of construction
The potential of AES and other autonomous systems to revolutionize traditional heavy construction machinery is tremendous, and its early adoption by industry leaders is a testament to its potential to transform the industry. Baidu Robotics and Autonomous Driving Lab (RAL) is at the forefront of developing state-of-the-art robotics and autonomous driving technologies that have significant applications in the construction and mining industry. We expect to see more game-changing solutions emerge that improve safety and productivity in construction and other industries.
Live Demonstration
10:00 AM Tue Mar 14th – 03:00 PM Fri Mar 17th
Booth N11872
Las Vegas Conventional Center
Come see the LiDAR-Camera fusion technology live and in person! LiDAR-Camera fusion is a core component, which provides the real-time and accurate perception of surrounding environments for Baidu's autonomous systems. Ask us any questions you have about the technology and how it can be used in construction robotics!