Baidu Announced 11 News tools to PaddlePaddle and RMB 100 Million Worth of Free Computing Resources to Support Developers
On 23 April 2019, Baidu's inaugural Wave Summit, the first deep learning conference for developers in China, took place in Beijing. More than one thousand AI developers, technologists and scholars attended the event.
At the Summit, Dr. Haifeng Wang, Senior Vice President of Baidu andPresident of the National Engineering Laboratory for Deep Learning Technology and Applications, said, "Driven by deep learning, Artificial Intelligence has entered a stage of industrialization, and the deep learning frameworks have become the operating system of the intelligent era." Dr. Wang believes that deep learning technology is already highly versatile, standardized, automatic and modular. Deep learning frameworks, serving as a bridge connecting chips and large-scale computer systems with various business models and industry applications, have become the operating system in the intelligent age.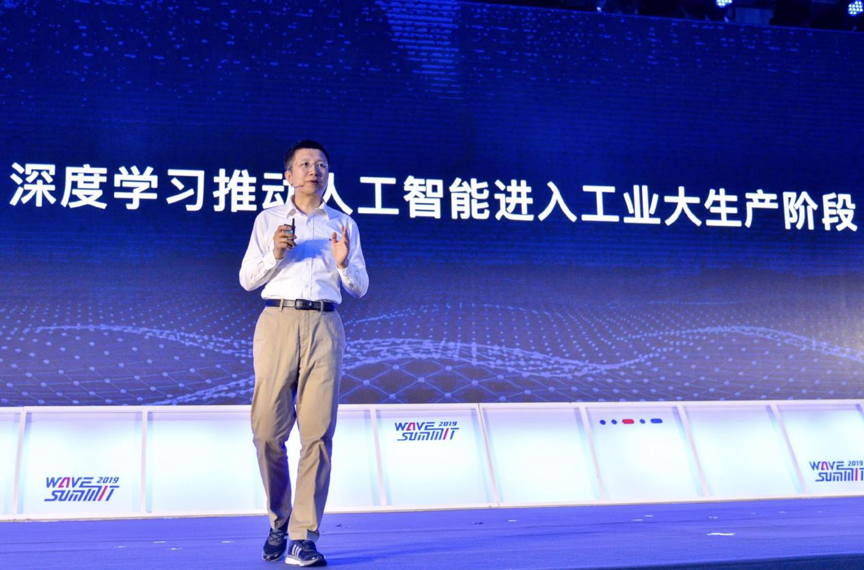 The comprehensive overview of PaddlePaddle unveiled with 11 new features
As one of earliest companies researching on deep learning (DL), Baidu has established the Institute of Deep Learning in 2013 as the world's first organization of its kind. Based on such a solid foundation, in 2016, Baidu open-sourced PaddlePaddle which is China's first and still the only open-source, most comprehensive end-to-end DL platform. In 2017, supported by the National Development and Reform Commission (NDRC), Baidu led the effort to create China's National Engineering Laboratory for Deep Learning Technology and Applications, a demonstration of Baidu's strength in the field of DL.
At Wave Summit 2019, three years after it's open-sourced, PaddlePaddle showed its remarkable achievements. Yanjun Ma, Director of Baidu's Deep Learning Platform, unveiled the comprehensive overview of PaddlePaddle that integrates a core framework, tools and services encompassing models that support real use cases and achieve industry-level outcomes, the distributed training capabilities for large-scale data scenarios, and the high-speed inference engine supporting multiple heterogeneous hardware systems. At the summit, Baidu released 11 new features and services on PaddlePaddle such as PaddleNLP, video recognition toolset, Paddle Serving, PaddleSlim, and AutoDL Design to facilitate the development, training and prediction in DL. Moreover, Baidu's one-stop developer platform AI Studio announced an RMB 100 million worth of free computing resources to support developers.
"What Baidu provides is not just a deep learning framework, but a complete set of tools and services that can be flexibly grouped into different packages. This is designed for beginners, engineers with zero knowledge of algorithm, algorithm engineers, and researchers alike," said Ma.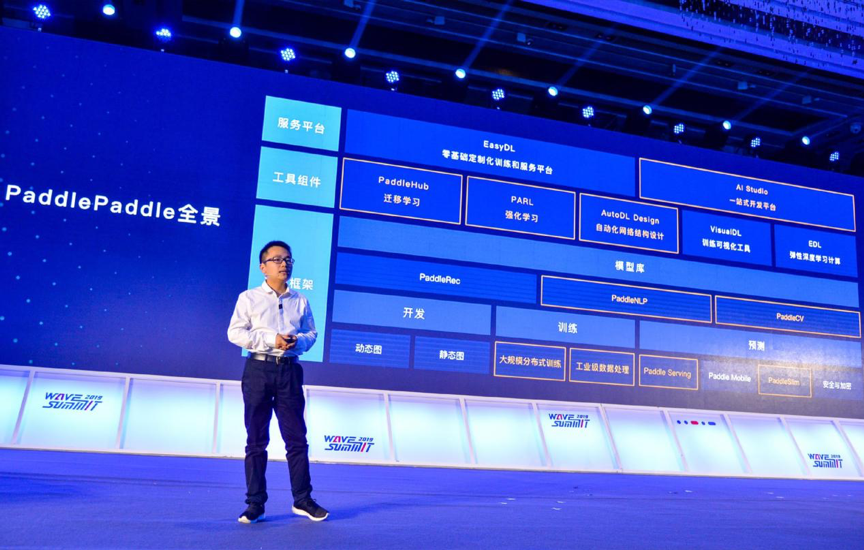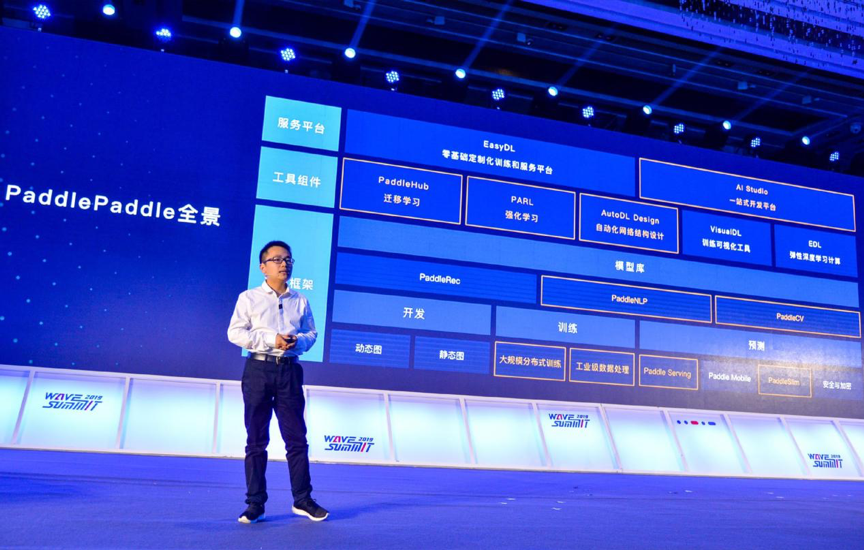 First of all, the core framework has made open a complete set of capabilities from development, training and to prediction. In terms of development, PaddlePaddle has opened up more than 60 official models verified by real business scenarios covering core AI technologies such as vision, Natural Language Processing (NLP) and recommendation, standing out as a DL platform with the most officially verified models.
PaddleNLP, the newly released Chinese-language NLP toolset for industrial applications, consolidates multiple NLP models into a set of codes sharing the same structure, which can free developers from repeated work at the development stage. PaddleNLP has the most effective Chinese-language semantic representation models as well as the task models based on big data training. The models are derived from industrial practices and can deliver industry-level outcomes.
The new video recognition toolset is made to assist developers in understanding, editing, and generating videos. It opened up 7 classic models for video classification which share the same set of configuration files, cover the mainstream models of video recognition, and support a quick configuration for training and prediction.
For training, the large-scale distributed training has been upgraded mainly in three aspects. Firstly, the installation of multiple machines and GPUs has increased the speed. Secondly, when CPU is deployed, Baidu has designed and opened up a large-scale sparse parameter server for large-scale sparse features so that developers can easily download the mirrors in need. Thirdly, it facilitates the high-speed operation on various containers while allowing training with PaddlePaddle within the K8S ecosystem.
When it comes to data processing, even with a low bandwidth connection, for example a 10G network, the speed of simultaneous training can be 10 times faster than before.
The critical step after development and training is deploying the models for different usage scenarios that requires a high-speed inference engine. To deploy the models on more devices, model compression is necessary and that demands the hardware-software integrated support. To cater to such needs, PaddlePaddle provides a complete end-to-end deployment solution, and will continue to expand its support to more hardware systems. PaddlePaddle also provides a high-performance acceleration library and inference engine. Meanwhile, the newly released Paddle Serving makes the speedy deployment of servers a reality. Furthermore, the new model compression library "PaddleSlim" is of significant use for developers. It can compress the already-tiny MobileNet model to be 70% less without sacrificing the quality.
PaddlePaddle is well-received by users because it's flexible, efficient and easy-to-use. Among multiple new and upgraded features, the toolsets are especially eye-catching. At the summit, PaddlePaddle not only open-sourced AutoDL Design, the upgraded PARL (Paddlepaddle Reinforcement Learning), but also released PaddleHub, a one-stop management tool for training.
AutoDL Design, the automated neural network architecture design, is built to design deep learning using deep learning. Today, its performance has already surpassed the networks designed by human experts. The upgraded version of PARL has improved its algorithm coverage, high-performance communication, and parallel training. PaddleHub, the simple and easy-to-use management tool for pre-trained models, comes with three major functions including the management of pre-trained models, one-key use of the command line, and transfer learning – with just 10 lines of codes, developers are able to complete model transfer.
Baidu offers RMB 100 million worth of free computing resources to support developers
Computing power is essential for the development of deep learning. At the summit, Yanjun Ma announced that Baidu AI Studio, the one-stop developer platform, plans to give away RMB 100 million worth of free computing resources to developers with an aim to empower developers to succeed. The free computing resources will be provided in either one-person-one-card with a 16G video memory and a storage space of up to 2TB, or the remote cluster.
The fact that deep learning is becoming standardized, automated and modular is pushing AI to enter a stage of industrialization, and also serves as a powerful aid to industrial upgrading. For example, leveraging on PaddlePaddle, Beijing Forestry University developed an intelligent pest monitoring system for pheromone traps that monitors the epidemic of the red turpentine beetle. Such application help to substantially reduce the labor costs of pest monitoring – the workload that takes one week with manual monitoring now can be completed in one hour automatically.
Another example comes from the Institute of Remote Sensing and Digital Earth (RADI) under the Chinese Academy of Sciences (CAS). Their staff used the PaddlePaddle Faster R-CNN model in conjunction with the feature extraction network VGG16 and the Region Proposal Network (RPN), plus Deeplab v3 network to conduct target detection and semantic segmentation on the remote sensing images, so as to monitor the land use of major construction projects. By doing so, they help the government monitor the expansion and changes of land use, providing effective management and control over the country's land resources.
The advancement of deep learning relies on continuous innovation and technological breakthrough, and also requires a healthy ecosystem. For academia, Baidu provides training for teachers on deep learning and helps to nurture DL professionals for universities through a Collaborative Talent Training Fund and the AI Studio (education branch). For the developer community, PaddlePaddle provides free online courses, free computing power support and non-stop competitions to encourage the development of DL. For organizations, Baidu launched the Whampoa Academy and announced a "AI Fast Track" program and AI ecosystem program with the goal to empower 1000 AI companies.